At A Glance
Tired of creaky or clumsy adjustable cranks that don't offer the lengths you need?
The 2XR FIT Crankset is our vision for what a variable length crank can be: simple, robust, and a range of useful crank lengths.
Made for professional fitters, studios, physical therapy (PT), medical offices and crank length enthusiasts.
Use them on a size-cycle, fit-bike, or outdoors on a real bike.
These cranks are designed for real world use and offer up the same quality and modularity and sizes as the original 2XR Crankset.
2XR Fit Crank Features
6 Crank Lengths: 175, 165, 155, 145, 135, 100mm
Covers a wide range of rider size, riding styles and physical peculiarities.
5 Q-Factors: 150, 156, 168, 183, 201mm for road, gravel, mountain and fat bikes.
Easily Swappable: Quickly change crank length simply by removing/installing the pedals (no proprietary tools)
Swap Q-Factors (spindles) on a fit-bike in a few minutes using only a 5mm allen wrench.
30mm Diameter Spindle: Common size that fits most bikes and size cycles. Note: most size-cycles use a square taper BB/crank so you may need a new 30mm BB when upgrading to 2XR FIT Crank.
Made in USA: designed, CNC machined and finished in Minnesota.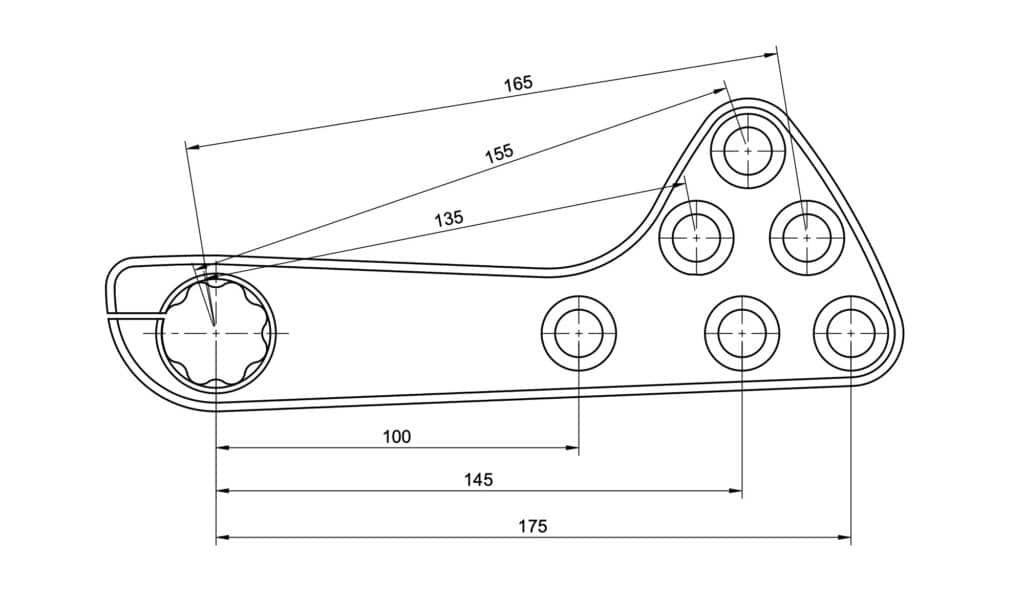 Material: 2024 Aluminum
Crank Lengths: 135, 145, 155, 165, 175mm
Spindles: 30mm spindle, 5 different widths for road, adventure/gravel, mountain, mid-fat, and fat bikes
Spiders: Standard spiders for 4 and 5 bolt chainrings (mountain 104×4, road = 110×5, track = 144×5). Have a 130×5 Chainring? 110×5 to 130×5 adapter
Colors: black, silver, pink, orange, gold, turquoise, purple, olive, sand, midnight
BB/Frame Standards: BSA (English threaded), ITA, PF30, BB86, BB92 BB30 T47, 386EVO, BBRight, + more (note: BB90/BB95 not compatible)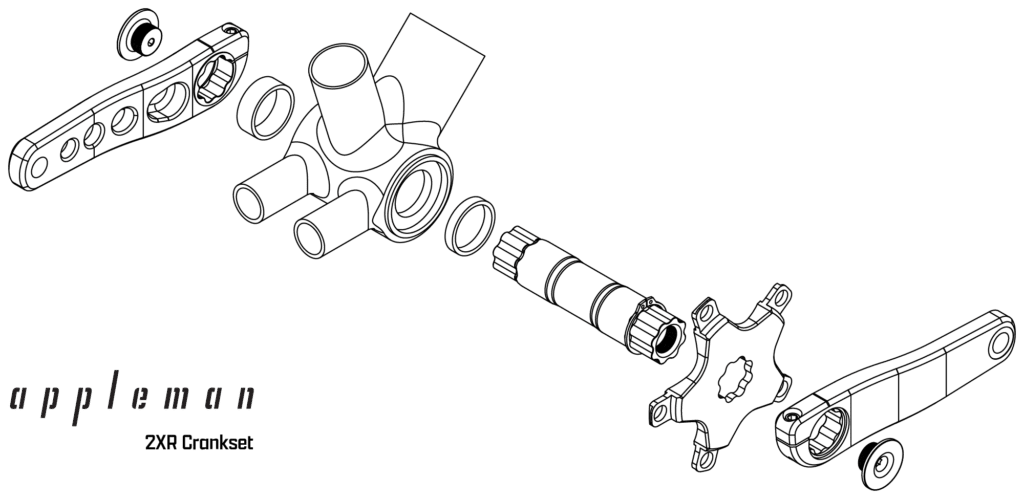 Fitter and Rider Friendly Design
No proprietary tools or chainrings
All 2XR parts are interchangeable
Only 5mm allen wrench for install (torque wrench recommended)

Trailside friendly adjustment
Low torque specs (5-10Nm)

Swap crank arms + pedals between different bikes easily
Appleman 2XR Crankset Specifications
Spindle
ROAD
ADVENTURE
MOUNTAIN
MID-FAT
FAT
Crank Arm Length
175 / 165 / 155 / 145 / 135 / 100
Q Factor *
150
156
168
183
201
Spindle Diameter
30
Bottom Bracket Types
BSA, ITA, PF30, BB30, T47, 386EVO, BBRight, BB86, BB92
Any BB with 30mm bearing and meets outer bearing width requirements
(note: not compatible with Trek's old BB90/BB95 standard)
BB Shell Width
68/86
68/86 or 73/92
73/92 (or 68/86***)
83/107 (or 73/92***)
100/121
Outer Bearing Width**
91.5
91.5 or 96.5
96.5 (or 91.5*** )
106.5 ( or 96.5***)
123.5
Types of Bike
Road, CX, Gravel, Track
CX, Gravel, Mountain
Mountain
Mid-Fat
Fat
Chainline (inner)
42 on track spider
43
49
56.5
super boost
66.5
fat 177 rear end
Chainline (outer)
47.5
recommended for 1x
50.5
recommended for 1x
56.5
super boost
64
fat 177 rear end
74
fat 197 rear end
Chainline (2x)
44
47
53
60
70
Distance Between Crank Arms Inside Faces
123
129
141
156
174
Spider use, typical
110x5, 110x4, 144x5 (track)
110x5, 110x4, 104x4
104x4
104x4
104x4

*Q-factor has a small amount of adjustability and is +0.5mm/-1.5mm. Dependent on frame/BB widths and spacers/shims

**Outer Bearing width is the width of the installed bottom bracket bearings and seals

***Requires two, 2.5mm spacers or General Purpose Spacer Pack (purchased separately on the Spindle Spacers page)

all measurements in millimeters