Carbon Fiber Bike Repair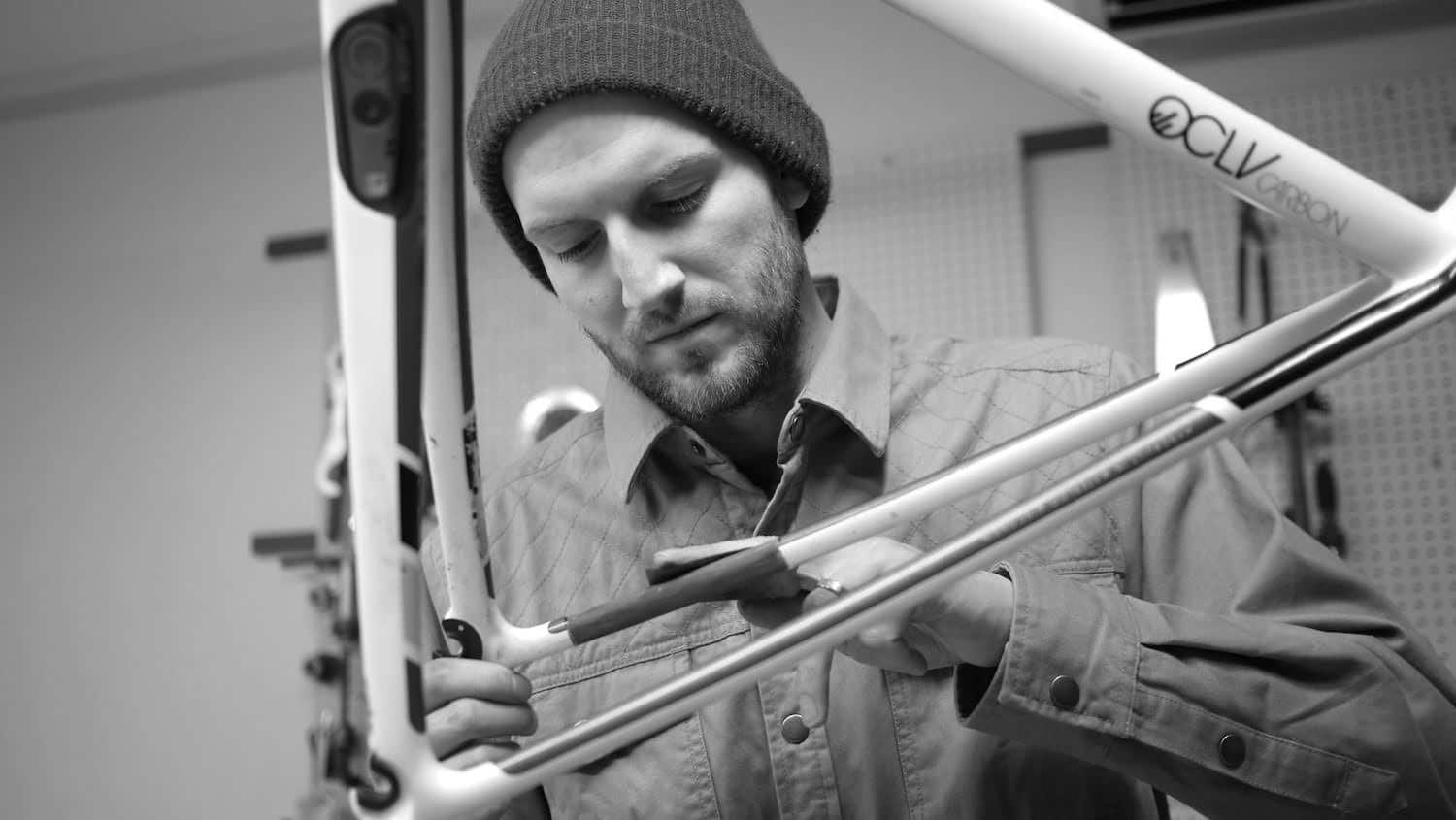 DAMAGED – BROKEN – CRACKED – WHACKED
You might feel embarrassed, pissed, depressed or a little bit of each… your carbon frame is damaged.
That's agonizing, but there's a good chance that your precious can be repaired.
Matt Appleman has been repairing composites for 14 years and specializes in carbon bike repair. He's seen all sorts of damage caused by crashes, cars, bike-racks, monkey-wrench-weilding-children and even the wind.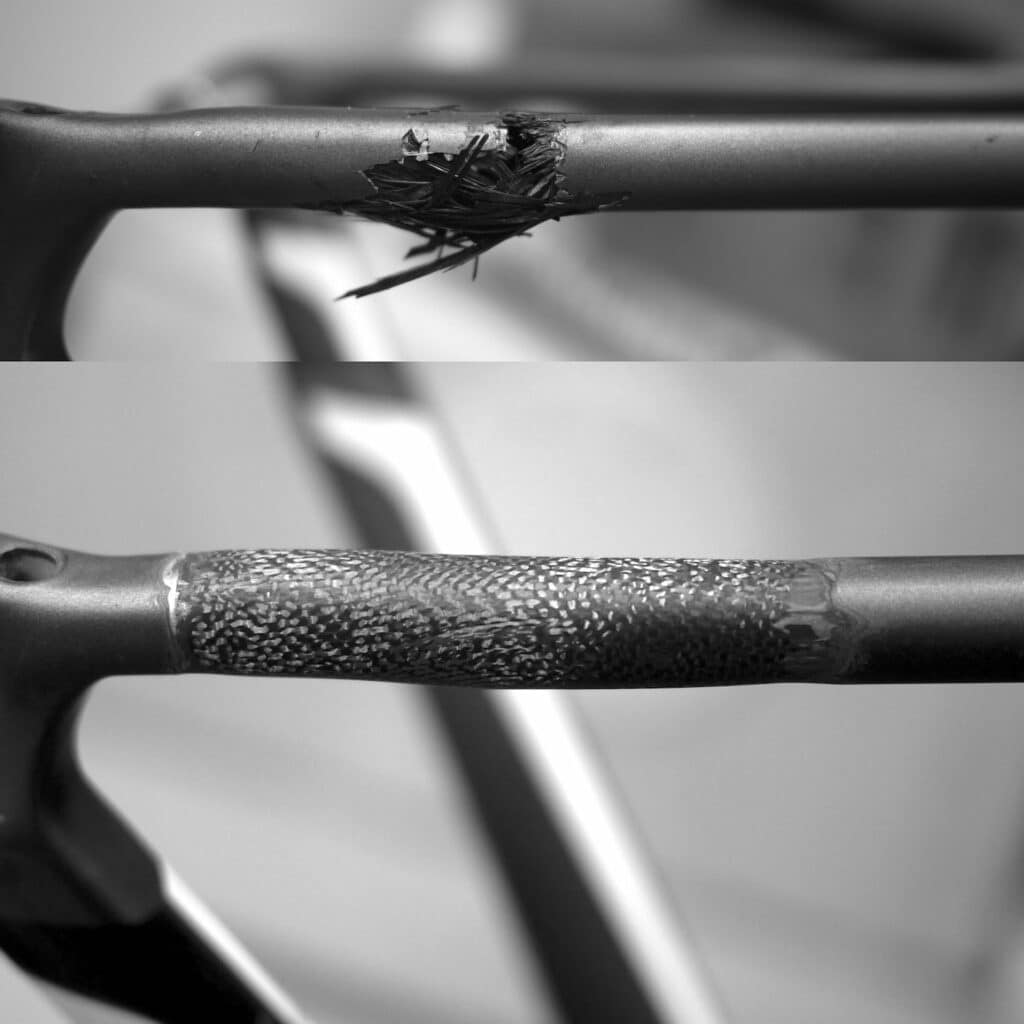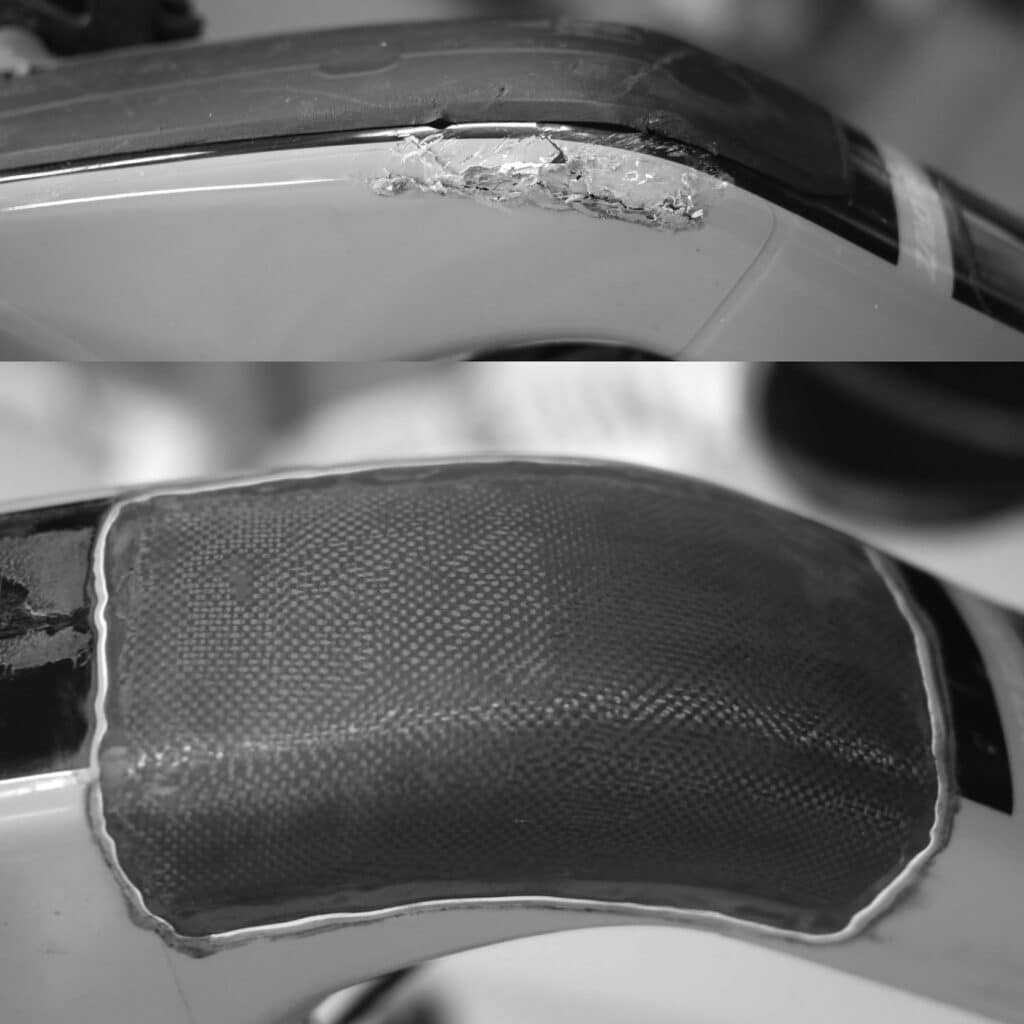 ENGINEERING QUALITY, WITHOUT THE AWKWARDNESS
Engineers aren't known for their people skills. Bucking that trend, Matt provides an uncanny dedication to good communication.
Appleman has helped over 1000 riders and bike shops across the country with carbon fiber repairs.
Matt Appleman cut his teeth as a composite materials engineer while building and repairing wind turbine blades + aerospace materials. This experience set the technical base for high strength + durable carbon bike frame repairs.
"THANK YOU FOR GETTING MY BIKE FIXED IN TIME FOR WORLDS. THE REPAIR LOOKS GREAT, BIKE RIDES AWESOME."

– TIM T
"GOT THE REPAIRED FRAME BACK AND IT LOOKS FANTASTIC. COULDN'T BE MORE HAPPY WITH IT!"

– JESSE S
"THANKS SO MUCH FOR MAKING THIS SO QUICK AND PAINLESS, I REALLY APPRECIATE IT."

– KELLEN G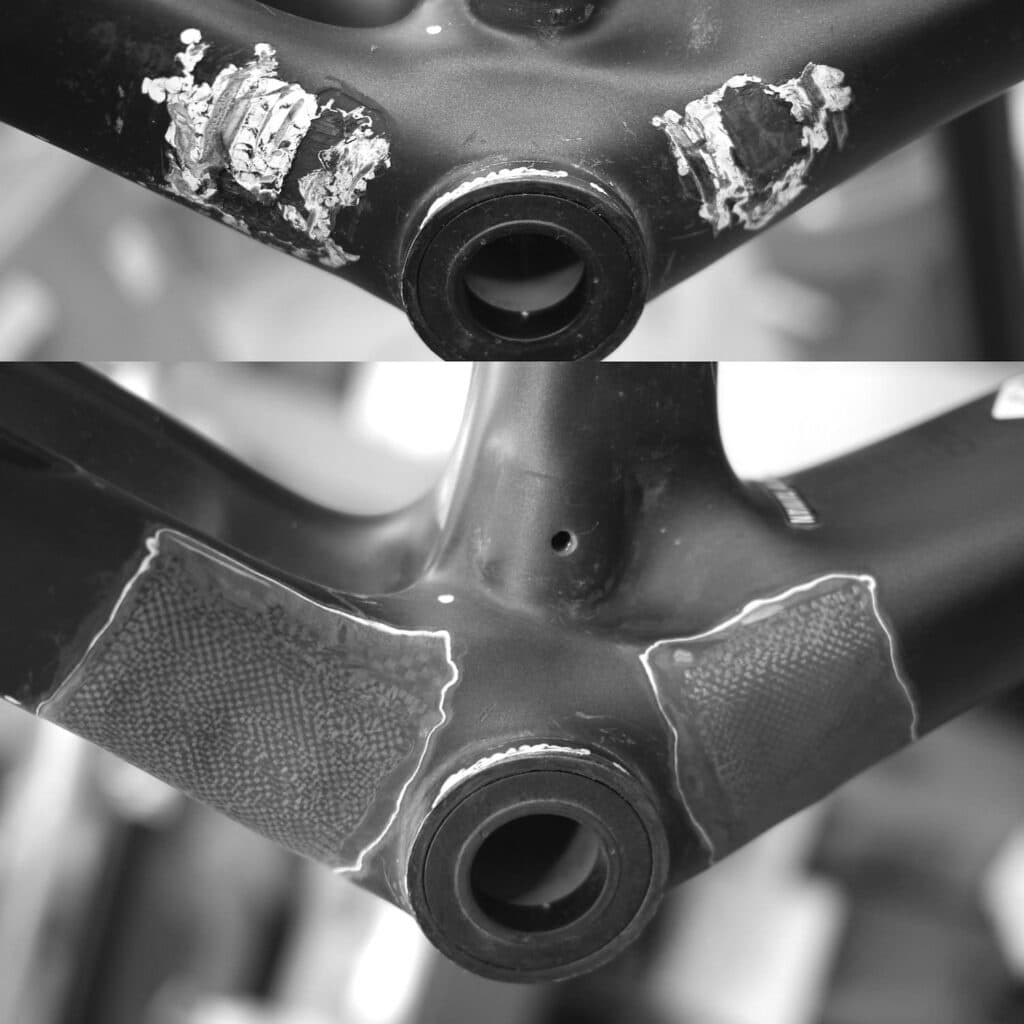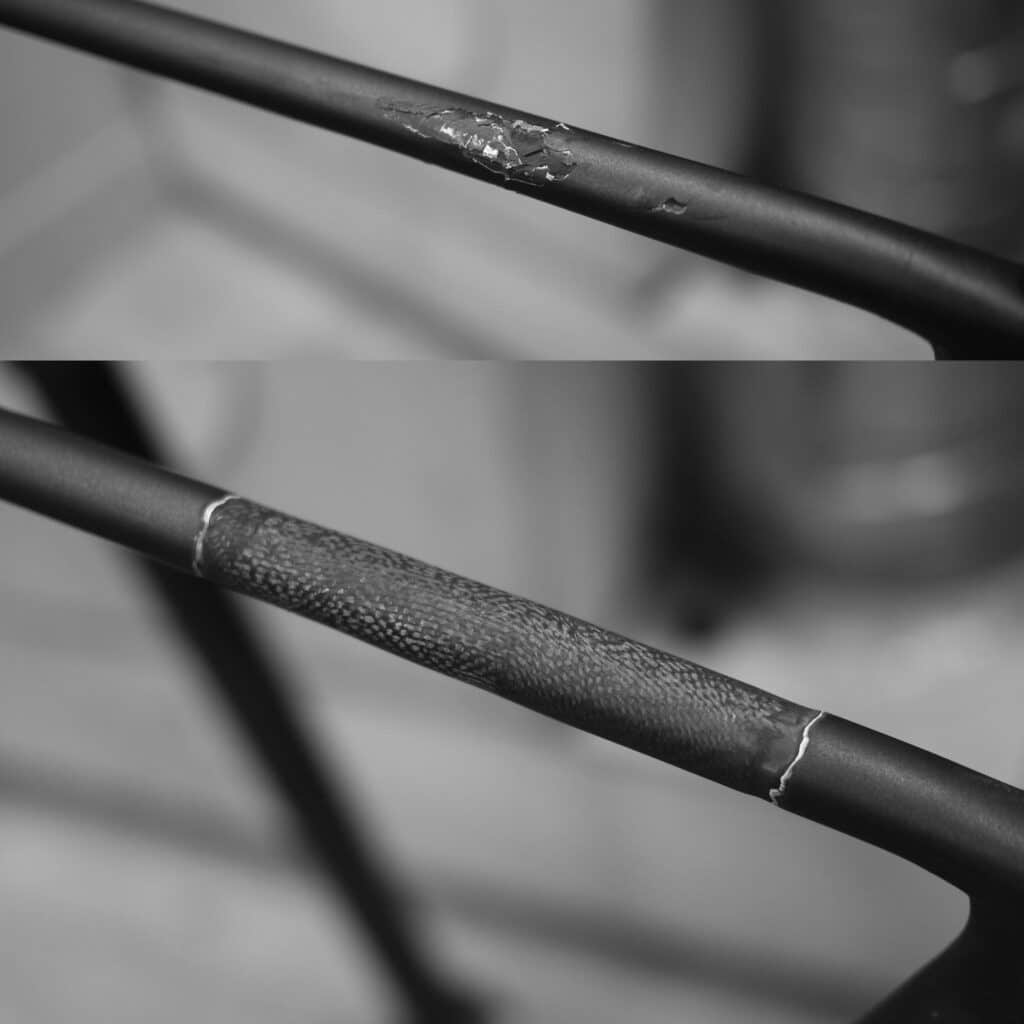 No Paint
Ride that battle scar proudly
Repairs are sanded smooth with a no-paint, no-maintenance raw carbon fiber aesthetic.
Cost
Most repairs cost $400-500
The size, location, and squishiness of the damage affect the cost of repair.
Time
Turnaround time is typically 1-2 weeks
Expedited 1-2 day turnaround for an additional $100. Same day repairs are available by quote.
Want a Quote? Start With Pics
Just a few pictures of the damage is all that's needed to get a quote.
Use the form or send to matt@applemanbicycles.com
Once the images are received, Matt will evaluate your frame for carbon repair and send you all the info you'll need.
CARBON FIBER Bike REPAIR FAQ's
How strong are carbon repairs?
Repaired areas of the frame are as strong or stronger than the original frame.

Do repairs have a warranty?
Appleman offers a 10 year warranty on carbon fiber repairs. Work involving metal like adding cable stops or water bottle bosses are not covered under warranty.
The warranty is transferable to a new owner with proof of the original repair.


How do I know if my frame is damaged?
That's a great question.
Visual inspection of the frame is the best way to find damage.
The "tap test" is another good way to evaluate composite damage, but takes some nuance and experience. When tapping your frame with a quarter, a dull "thud" is not a good sign.
If you have any questionable carbon, send pictures using the form above or in an email and your frame will be evaluated.

What brand of bikes can be repaired?
Any brand of bike can be repaired. The important thing is that it's made out of carbon fiber. Even carbon E-bikes can be repaired.
What type of damage can be repaired?
Almost any type of damage and almost every location on the bike can be repaired.
Fully snapped, cracked, impacts, scratches, gouged, dinged, roof-rack damage, water bottle bolt replacement.

Can handlebars or other components be repaired?
No. It's typically the best to replace components like bars, stems, rims, etc…

Do I need to remove all the components from my bike?
No! Clear access around the entire damaged tube is needed. Often, this is as simple as moving a cable, or removing the crank. When shipping your bike, removing as many components as practical will reduce shipping cost and minimize the possibility of damage.