Worldwide shipping: $25-55 + duty/taxes
USA shipping: $15, Free after $550
lead time: 1-2 weeks
*chainrings not included
At A Glance
The 2XR Crankset stands for "two times radius" and is the brainchild of framebuilder Matt Appleman. Frustrated by cranks that didn't fit people or bikes well, Appleman designed these with a rider-first approach.
Versatile and modular, these cranks offer up new fit options for a wide array of people and a full fleet of bikes.
Made in USA: designed, CNC machined and finished in Minnesota out of high strength aluminum.
Why Crank Length Matters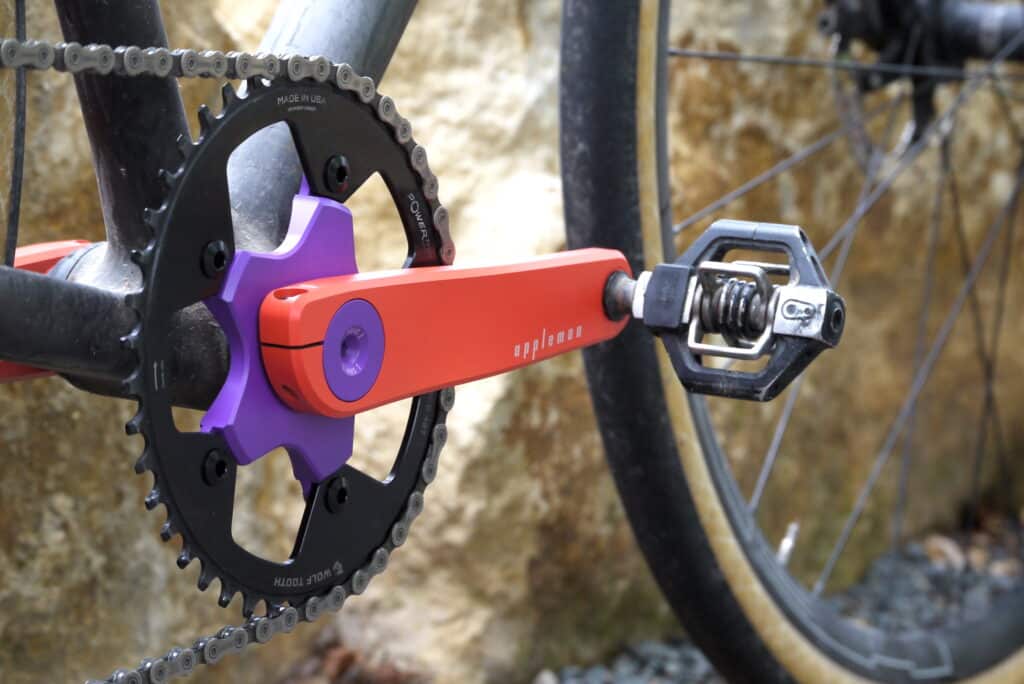 The Key to a Better Bike
No other component controls so much of the riders motion. Your whole lower body constantly churning with every pedal stroke.
In search of optimizing fit, comfort and efficiency, Appleman's approach to crank length challenges the archaic sizes commonly found.
After years of knee pain, Matt Appleman found short cranks vital to bike fit and has encouraged all his custom frame customers to ride appropriately sized bike cranks (short or regular length) for the absolute best bike possible.
Want to know more? Read our Rider's Guide to Crank Length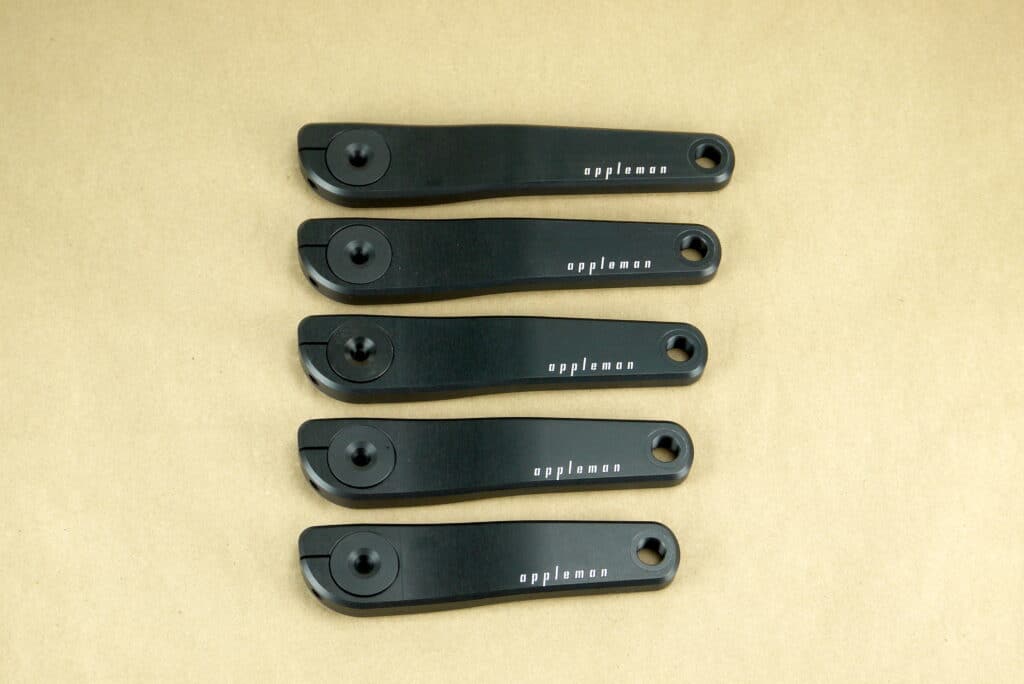 CRANK LENGTH Calculator
What crank length is right for you? It's complicated, but as a very rough rule of thumb, use 20% of your inseam to find your crank length
Like getting nerdy with crank length? Find better ways to determine crank length.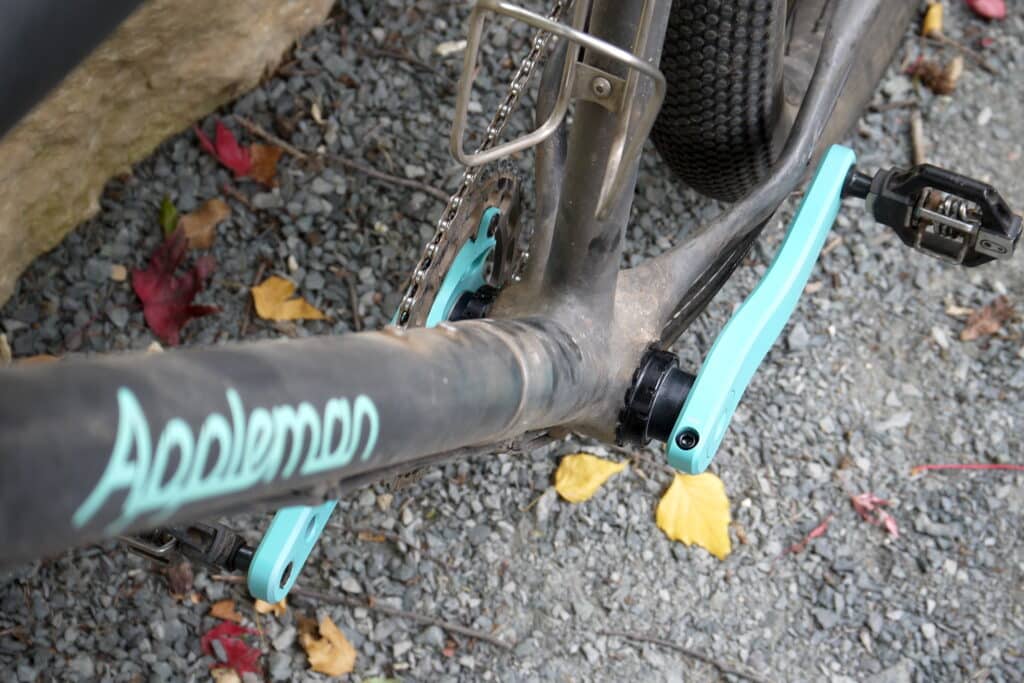 Short Cranks for the Win and Comfort
more aerodynamic position
reduced pedal strike
more comfortable
better frame geometry
less toe overlap
less knee, hip and back pain
What Cranks Work for My Bike?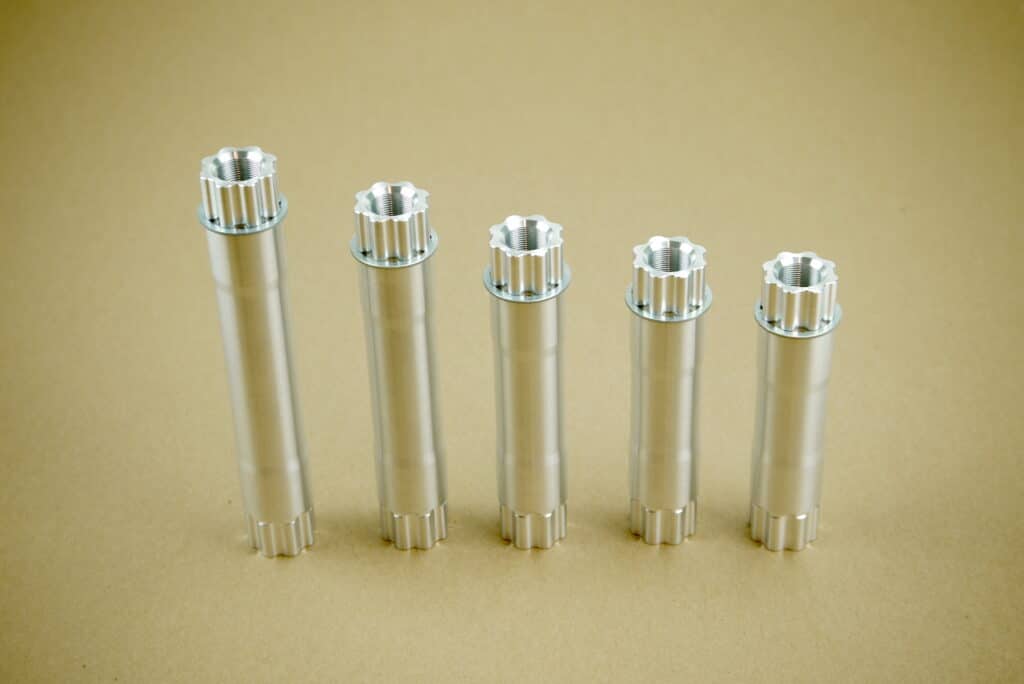 Use ROAD SPINDLE + 110×5 or 110x4SPIDER for road, gravel, CX type bikes or bikes with road drivetrains.

Shimano users: Use the 110×4 Shimano style spider to reuse their existing road chainrings, 11 and 12spd compatible!


For GRX users use Shimano Road (Dura-Ace, Ultegra, 105 etc…) chainrings with 110×4 spider —OR— Praxis sub-compact chainrings with the 110×5 spider. GRX Chainrings will not fit any Appleman spiders.

Sram users: Typically use the 110×5 spider with Praxis Chainrings (10/11/12 speed, Flattop compatible). If you have 11 speed cranks with a 110×5 chainrings, then you can directly reuse those!

Use as 1x or 2x chainring (1x use outside position).

*110×5 SPIDER is compatible with sub-compact Praxis Chainrings (48x32t)!

For the track or fixie bikes, use the Road spindle with 144×5 Track spider.

Q-Factor = 150mm
Use ADVENTURE SPINDLE + 110×5 or 110×4 SPIDER if you've got a gravel bike using a widely spaced gravel or mountain drivetrains (like Shimano GRX or similar).

Note 110×4 Shimano style spider fits road chainrings (Dura Ace, Ultegra, 105) and doesn't fit GRX chainrings.

1x or 2x chainring compatible.

Use ADVENTURE SPINDLE + 104×4 SPIDER if you have a mountain bike that is designed for/accepts narrow Q-factor cranks. Measure your frame to ensure there's enough clearance between the crank arms and chain stays.

Use outside chainring position for all 1x setups.

Q-Factor 156mm
Use the MOUNTAIN SPINDLE with a 104×4 SPIDER if you've got a mountain, trail, or enduro bike.

Mounting the chainring on the inner position provides standard/boost chain line while mounting on the outside position provides super-boost chain line.

Q-Factor = 168mm
Use the MID-FAT SPINDLE and 104×4 SPIDER if you've got a fat bike with a narrow q-factor (like the Otso Voytek or similar).

Mount the chainring on the outer position.

For some super-boost trail and enduro bikes, the MID-FAT SPINDLE would give you a wide q-factor. Use the 104×4 SPIDER with the chainring mounted on the inside position.

Q-Factor = 183mm
Use the FAT spindle with a 104×4 Mountain spider if you've got a fat bike, . Mounting the chainring on the inner portion provides a chainline for 177mm rear ends and mounting on the outside provides a chainline for197mm rear ends

Q-Factor = 201mm
Need a new Bottom Bracket or Chainring?
Technical SpeciFications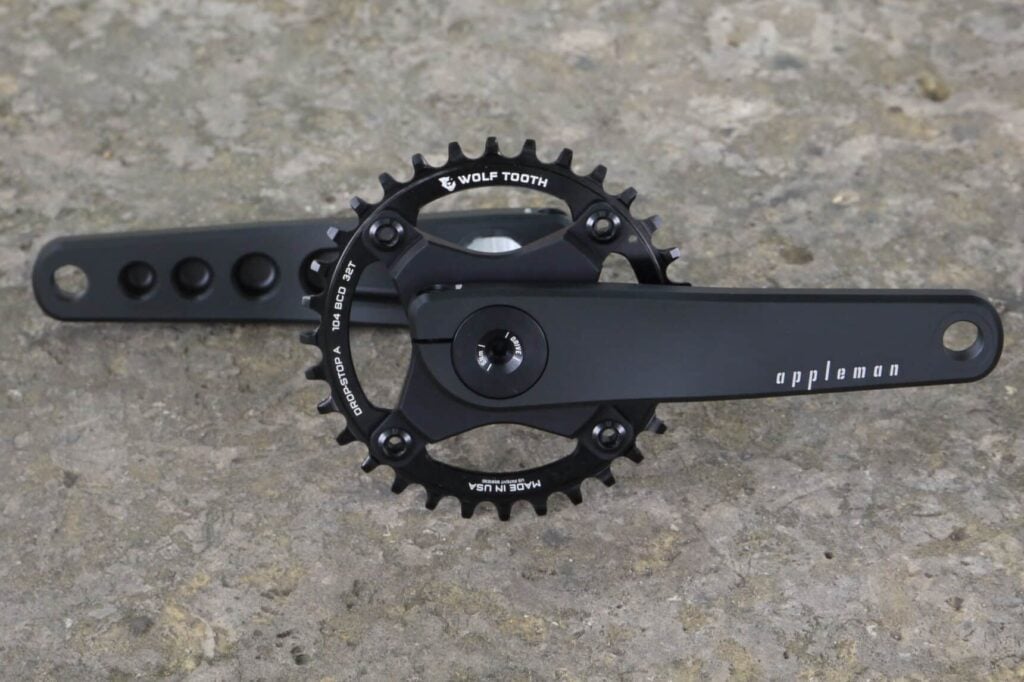 Material: 2024 Aluminum
Crank Lengths: 100mm, 135mm, 145mm, 155mm, 165mm, 175mm
Spindles: 30mm spindle, 5 different widths for road, adventure/gravel, mountain, mid-fat, and fat bikes
Spiders: Standard spiders for 4 and 5 bolt chainrings (mountain 104×4, road = 110×5, track = 144×5)
Colors: black, silver, pink, orange, gold, turquoise, purple, olive, sand, midnight blue
BB/Frame Standards: BSA (English threaded), ITA, PF30, BB86, BB92 BB30 T47, 386EVO, BBRight, + more (note: BB90/BB95 not compatible)
Warranty: 5 years
Exceeds ISO 4210 crank fatigue tested to both "racing" and "mountain" test setups. Tested by independent lab.
The Outer Bearing Width of the BB must match the crank: see Specification Table below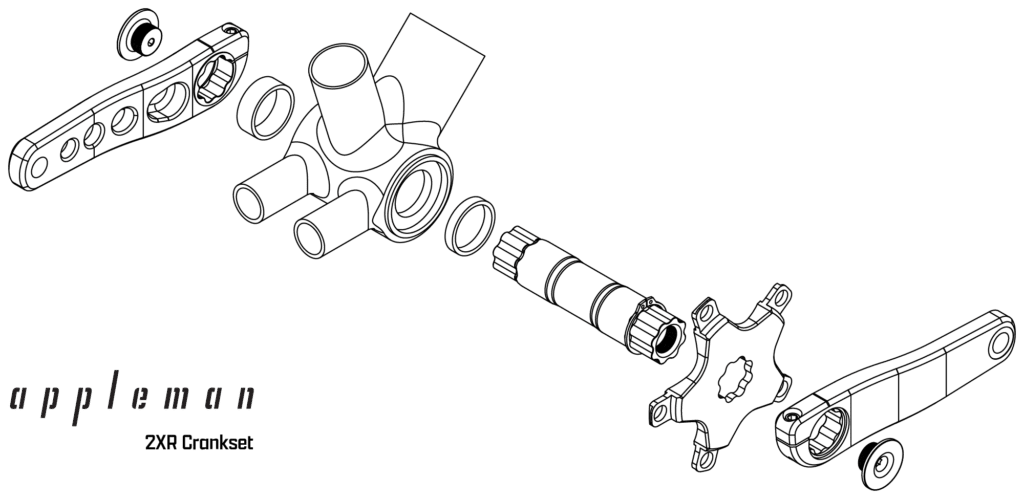 Rider and Mechanic friendly Design
No proprietary tools or chainrings
All 2XR parts are interchangeable
Only 5mm allen wrench for install (torque wrench recommended)

Trailside friendly adjustment
Low torque specs (5-10Nm)

Swap crank arms + pedals between different bikes easily
FAQ's
What power meters are compatible with 2XR Cranks?
Every pedal based power meter! Pedal based power meters are super versatile and you can swap them between bikes very easily. Road and SPD/Mountain versions are available from Favero, Garmin, SRM, and Wahoo (Speedplay). Spider based power meters would have limited the design and versatility of the 2XR Cranks.
Are the cranks painted?
All the cranks are painted using a high performing, specialty, water-based polyurethane. It's really good stuff and has much lower toxicity, health, and energy impact than other paints or anodizing.
Is there a direct mount chainring available?
Not at this time. The spider based system allows for maximum versatility. With continued sales of the cranks, we'll be able to justify direct mount chainrings in the future.
Appleman 2XR Crankset Specifications
Spindle
ROAD
ADVENTURE
MOUNTAIN
MID-FAT
FAT
Crank Arm Length
175 / 165 / 155 / 145 / 135 / 100
Q Factor *
150
156
168
183
201
Spindle Diameter
30
Bottom Bracket Types
BSA, ITA, PF30, BB30, T47, 386EVO, BBRight, any 30mm bearing matching Outer Bearing Width (note: BB90/BB95 not compatible)
BB Shell Width
68/86
68/86 or 73/92
68/86 or 73/92
73/92 or 83/107
100/121
Outer Bearing Width**
91.5
91.5 or 96.5
91.5 or 96.5
96.5 or 106.5
123.5
Types of Bike
Road, CX, Gravel, Track
CX, Gravel, Mountain
Mountain
Mid-Fat
Fat
Chainline (inner)
42 on track spider
43
49
56.5
super boost
66.5
fat 177 rear end
Chainline (outer)
47.5
recommended for 1x
50.5
recommended for 1x
56.5
super boost
64
fat 177 rear end
74
fat 197 rear end
Chainline (2x)
44
47
53
60
70
Distance Between Crank Arms Inside Faces
123
129
141
156
174
Spider use, typical
110x5, 110x4, 144x5 (track)
110x5, 110x4, 104x4
104x4
104x4
104x4

*Q-factor has a small amount of adjustability and is +0.5mm/-1.5mm. Dependent on frame/BB widths and spacers/shims

**Outer Bearing width is the width of the installed bottom bracket bearings and seals

all measurements in millimeters
APPLEMAN 2XR CRANK WEIGHTS (GRAMS)
Spindle / Crank length
Road
Adventure
Mountain
Mid-Fat
Fat
Spider
175
549
554
562
572
587
+
104x4
54
165
543
548
556
566
581
110x5
64
155
534
539
548
557
572
144x5
96
145
525
529
538
547
562
135
515
520
528
538
553
*Crank weights are shown as Crank Arm + Spindle + all mounting hardware. This is how most brands display weight and do not include spider weight.